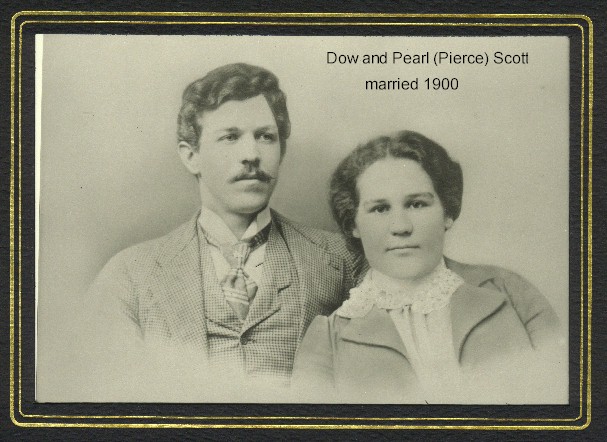 | | |
| --- | --- |
| | UD Scott born 27 December 1878 in Humboldt County, Arcata, California. Parents were Charles B. and Sarah Ann Scott |
| | Pearl--always called Pearl never Lydia--was born 10 August 1883 in Latah County, ID. Parents were Thomas H. and Anna Medora Pierce. |
| | Dow was found on 1880 Humboldt County federal census with his family. He was 2 years old. |
| | Pearl grew up in Juliaetta, ID. |
| | UD spent school years in Whitman County, Washington. |
| | An able horseman, UD owned a livery stable in Spalding, Idaho. |
| | Pearl and UD married 10 July 1900 in Nez Perce County, ID. |
| | UD had multiple occupations through out his lifetime including farmer, real estate salesman, laborer. Avocation was mining. |
| | Homesteaded in Nez Perce County, Idaho. Issued his land patent for 160 acres on Cottonwood Creek in March of 1909. |
| | UD belonged to the Masons. |
| | Pearl was a long time member of the Juliaetta Church of the Nazarene. |
| | Both are buried in the Juliaetta, Idaho cemetery near their children Dona and Robert who died as infants. |
The 11 children of Dow and Pearl Scott:
Earl T.
b. 10 June 1901
d. 22 January 1975
m. Valera J. Pope
Stella
b. 03 April 1908
d. March 1984
m. Leonard Stewart
Robert
b. 1917
d. at age 10 months
Donna
b. 16 August 1902
d. 1904--age 18 months
John Ernest
b.15 April 1910
d. 05 May 1971
m. Edith Unknown
Bruce Asbury
b. May 10 1920
m. #1 Roberta Morgan
m. #2 Ruby E. Ferguson
Wallace Charles
b. 15 March 1904
d. February 24, 1977
m. Anna Stoliker
Franklin Miles
b. 14, February 1910
d. 01 March 1990
m. Evelyn Genevieve Williams
Elizabeth Medora Scott
b.11 November 1921
d. 06 October 1999
m. Willard B. Bowen
Frederick Dow
b. 22 October 1906
d. December 1980
m. Mildred Bennett
Lloyd Benjamin Pierce
b.05 September 1914
d. 31 March 1977
m. #1 Geraldine Tanner
m #2 Joybelle Scott
Biography:
My grandfather, Ulysses Dow Scott died 14 years before I was born and my grandmother, Pearl (Pierce) Scott died when I was two years old. I never knew these grandparents but I knew the pictures that hung on the wall at Aunt Anna's house and the pictures in the drawer of big old dresser that came with us on every move. I knew the stories and now I have done the research to know my grandparents even better.
U. Dow Scott was born December 29, 1878 in Arcata, California according to the Humbolt Times of that county. He was the tenth child born to Charles Benjamin and Sarah Ann (Bonnett); at that time only seven children were surviving--see the CB and SA page. The family story is that Ulysses Dow was named after the great Civil War general Grant and an itinerant preacher. I think the preacher was the charismatic Methodist Lorenzo Dow who traveled the United States preaching the gospel. Anyway Dow was stuck with the nickname "Useless Dow" throughout his life.
When Dow was two years old, Charles B. Scott moved the family by wagon to Whitman County in the Washington Territory. According to the "Scott Family Record" the trip took 12 weeks. During this year, Dow's sister Jesse was born. Homestead papers show that the family had a Post Office address of Lone Pine, which was located on the old Walla Walla-Spokane Bridge Stage road. According to stories Lone Pine was named after one lone pine that grew near the Post Office. The community had a school, stage coach stop and post office. All that is left now is the Lone Pine Cemetery, a little corner of a wheat field that is overgrown with lilac bushes and tall grass where U.D. Scott's grandmother, Easter Scott and his sister Orphie Jane are buried. The Colfax Commoner had a Lone Pine community column along with other communities like Guy, Oakesdale and Farmington but that seemed to phase out in the 1890's. The mail service to Lone Pine was discontinued March 19, 1890 and the mail was sent on to Tekoa. On the 1890 Federal Special Veteran's Census, Charles B. Scott reported Oakesdale as his address.
Stories handed down by the family say that Charles B. Scott taught school during part of the years that Dow was growing up. Although I have researched this story, I have not found any direct evidence to support it in the books and records of Whitman County. I did discover through the Lone Pine column that Maud, Dow's older sister was a school teacher. My Dad said that Dow had a teacher that he didn't like. One day on the way to school, he and a friend found a fancy wrapped box that was empty. One of them got the bright idea of filling the box with cow pies and leaving it along the road, right on the path that the teacher took to school. Of course the teacher couldn't resist picking up the box and she thrust her hand in it before looking and ended up with a handful of manure. I hope that this teacher was not Dow's sister, Maud. Another family story says that Dow and other young men, caught wild horses on the Palouse plateau, broke the horses to saddles and sold them to the US government for the Spanish-American War of 1898. A Mr. Chase who farmed around Lone Pine for years told me that it was a tradition for the young men of the area to capture wild horses in the spring after which they had a rodeo and the horses were sold to local farmers. My father and Uncle Bruce talked about Dow and his wonderful skill as a horseman. Uncle Bruce remembered that Dow would ride in parades and perform tricks--standing on the horse's back, sliding under the horses' stomach, and riding backwards. Years and years later, you could hear the awe in Uncle Bruce's voice when he talked about Dow on a horse. Another memory that Bruce had was that Dow said the kids used to walk to Tekoa and sell eggs during the Whitman County years. In deed, the Homestead files shows that the Scotts had a henhouse.
Lydia Pearl Pierce's parents moved to Pullman, Washington in 1878 and not too many months later they removed to Moscow, Idaho. Family records and reports show that Pearl--she was never called Lydia--was born on the "old Snow place" south of Moscow on August 10, 1883. There was a family by the name of Snow that farmed south of Moscow and now there is a Snow road located by their land. Shortly after Pearl was born, the family moved to Juliaetta, Idaho because according to the family, Moscow was too cold and too windy. The Pierces must have been about the third family who settled in Juliaetta, named for two daughters of another pioneer family. Records show that Thomas H. Pierce was granted a land patent in 1883. Anna Medora founded the first Sunday School in Juliaetta with the first families, Snyders including Julia and Etta, and her children.
My older Bowen cousins knew Grandma Pearl well while they were growing up. After school they would stop at her house to show her their homework and for milk and cookies. Beverly said that Pearl told a story about her older brother. Once he was playing with a shotgun that accidently discharged and hit Pearl in the side. He ran away because he thought that he had killed his little sister and Thomas had to go find him and bring him home. Sometimes Pearl would let Bev feel the birdshot under the skin on her side. Bradley said that Pearl told wonderful stories and he remembered that the Pierces knew Buffalo Bill Cody. When Pearl was a little girl, the family took a train to Spokane to see his show because her mother knew him.
The Probate records of Sarah Ann Scott show that Dow Scott was living in Spalding, Nez Perce County, ID in December 1899. A copy of the marriage license registered in the Nez Perce County Courthouse, show that Dow and Pearl were married July 10, 1900 in Lewiston, ID. Both my Uncle Bruce and Aunt Evelyn wife of Frank are certain that Dow and Pearl were married in Asotin, Washington. Uncle Bruce remembers that his mother told him, that they were married in Asotin. It could very well be that they were and the minister registered the marriage in Nez Perce County, ID as it was convenient. As far as I have been able to determine Dow and Pearl never lived in Asotin. We have a picture of Dow on horseback at his stable in Spalding, taken about the year of his marriage.
In 1909, Dow Scott was issued a land patent for his153.8 acre homestead in Nez Perce County, Idaho--location in 36N twnsp, range 3W, Boise Meridian. They lived on Cottonwood Creek but Myrtle, Idaho was given as the location of birth for the children born during this time period. These were Earl in 1901, Donna in 1902 (died in 1904), Wallace in 1904, Fred in 1906 and Stella in 1908. On the 1910 federal census, Dow and Pearl and family were found in Juliaetta, Latah County, Idaho and Dow had listed real estate as his occupation. The birth record for John Ernest Scott, born in 1910 in Juliaetta also showed that Dow reported real estate as his occupation. During these years, The Dr Foster School of Healing was extremely successful in drawing people into Juliaetta and real estate was a booming business. Uncle Bruce said that Dow was a friend of Robert Foster, good card playing buddies. By 1911, Foster moved his family and practice to Clarkston so real estate in Juliaetta went bust. Dow and Pearl were back in Nez Perce County for the births of their next three children, Frank in 1912, Lloyd in 1914 and Robert in 1917 or 18. Uncle Bruce reports that Dow was working in a warehouse in Sweetwater and Frank was actually born at Pearl's cousin Meda's house. Frank was named after Meda's husband, Frank McIntire. Lloyd and Robert were born on the ranch at Cottonwood Creek. In 1918, little Robert died of the flu and was buried in the Juliaetta cemetery. Dow registered with the WW1 Nez Perce draft board on September 12, 1918. He was described as tall, medium build, with blue eyes and brown hair. His occupation was farmer and his address was Myrtle, Idaho.
About the time of Robert's death, Dow and Pearl decided to move to Mabton, Washington where Dow's father, Charles B.; brother Charles Lincoln; Uncle J.A.M. Scott and several cousins were living. It was written in Pearl's obituary that the family moved to Mabton in 1918 and returned to Idaho in 1925. Uncle Bruce said that they moved there looking for better opportunities. The oldest boy, Earl ran away to join the service about 1918 or 1919; Uncle Bruce remembers that Earl wasn't getting along with Dow and Pearl signed the papers so that Earl could join the marines--he was still underage and needed a signature from a parent. Dow and Pearl with family showed up on the Mabton, Yakima County, Washington census. Dow's occupation was laborer at a grain elevator, the one that his brother Charles managed. During the Yakima County years, Bruce Asbury was born in 1920 and Elizabeth Medora followed in 1921. The March 20th, 1923 Mabton Chronicle announced, "Earl Scott, son of Mr. and Mrs. Dow Scott, who has been in the U.S. Marines for sometime, was welcomed home last night." In 1924, Dow was reported on the list of registered voters for the election in Mabton. Sons Wallace and Fred showed up regularly in the school news columns, never on the honor roll but frequently as part of a basketball or baseball team and sometimes with parts in high school plays in 1923, 1924 and 1925. In 1924, C.B. Scott, father of Dow Scott died of a stroke. Wallace graduated from High School in May of 1925--he was voted Class Grumbler-- and on August 28 he married Anna Stoliker. Fred was still in the news until the spring of 1926 when he graduated. On March 26, 1926 the Mabton Chronicle reported "Coach Snyder and his basketball squad appeared to thoroughly enjoy the banquet given in their honor by the Commercial club last Friday evening in the Methodist Church basement. The boys played a fine game with the ???? and when it came to ???? they played the game. Each was called on for a little talk and all responded bravely. Fred Scott said that he had played four years with the team and was glad to have been of some service in his final year."
Bruce Scott remembers the move back to Idaho with wagon and horses. He said that he remembered camping by the roadside at night and the campfires. He remembered that Lloyd and Frank rode horses and drove the stock behind the others in the wagon. When they moved back in 1925 or '26, Wallace was already married and stayed in Washington. Fred finished High School in Mabton and married Mildred Bennett. The family moved back to the ranch but Bruce said that Dow tried many ways to earn money to support his family--he stacked grain sacks in warehouses and sold US bonds. In January of 1930, Dow's youngest brother Fred died in surgery. Bruce remembered that winter was especially cold and snowy and Dow had bought himself new rubber boots. He walked several miles from the ranch to Arrow to the railroad tracks and flagged down a train to get a ride to Spokane where he could get a ride to Fred's funeral. It was against the rules for people to ride up front with the engineer or in the caboose but they let Dow ride in a box car that was frigidly cold that night. Bruce said that Dow stomped and walked and jumped and kicked all the way to Spokane so that his feet wouldn't freeze. By the time he got there, he had worn out his new boots and sadly he had missed his brother's funeral.
Times were hard in the 1930s. Ironically, Dow was close to losing his ranch the way C.B. Scott had lost his farm in Whitman County at the end of the 1890s depression. Dow wrote a letter to his brother Charles who was in the hospital in Spokane.
Myrtle Idaho, Mar 5 1935
Dear Bro & famly--
Will write you a line were all well hope you are better by this time was in Lewiston part of the winter. Bruce is going to High School there. Frank got married so Bruce is staying with him I lost the old ranch house have the place below but don't know how long I will be able to hold on to it. Lloyd and John are plowing and disking today. It is freezing at night pretty cool weather I am feeding hogs and making gardens. I had a bad spell with my stomach 2 years ago. haven't been much since. had a bleeding of my left hand. doctor said it was a pressure on the nerve it bothers me some yet. Will go to the mines about 20 if we got the work done up. there is no money in this part of the country over half the people are on the releaf a lot of the old-timers have kicked of old Jake Mesesinger died about two weeks ago. J&Ed Story lost all of there land too year ago Just about one man in 20 owns his land I found the Lost Roberson mine on the north fork of the Clearwatter but it was on deeded land and I could not file did not have the money to by the land. so thats that. will I hope this find you folks all well will close love to all
your Brother Dow Scott
At the end of the thirties, Dow and Pearl left the ranch and moved to Lewiston for about a year. They moved to Juliaetta where Betty finished her last year of High School in 1939. Dow died suddenly of a coronary occlusion on February 9, 1941 at home. He was buried in the Juliaetta cemetery.
Pearl lived 18 more years in Juliaetta. Her grandchildren, including my brother Dow, had fond memories of dropping by her house after school to show her their homework and for milk and cookies. She was very involved with the Nazarene Church and served on different committees. One of the stories that her children were fond of telling about Pearl took place when they lived on the ranch. My Dad said that the kids in the Scott family loved the lemon meringue pie their Mom would make and they always fought about who got more than their share. One day the kids and Dow came to dinner and by each plate there was a lemon meringue pie for each person. Throughout his life, my Dad always liked lemon meringue pie best.

Last update: March 03, 2002