Charles Benjamin Scott
Sarah Ann [Bonnett] Scott
| | | |
| --- | --- | --- |
| | Married 1861 | |
Brief facts:
| | |
| --- | --- |
| | C.B.born Greenbrier or Pocahontas County, [W] VA in 1838. Parents were John and Easter [Erwin] Scott |
| | In the 1840 Federal Census in Pocahontas County, John Scott was found with family. Charles was one of the male children less than age 5. |
| | SA born Jackson, County, [W] VA in 1844. Parents were Nicholas H.and Catharine [Staats] Bonnett |
| | C.B. found on the 1850 federal census of Greenbrier County, [W] VA. Charles was 11 years old. |
| | SA found on the 1850 Jackson County census. She was 6 years old. |
| | 1860 federal census of Jackson County, [W] VA. Charles B. still lived with his father and mother. He was 21 years old and a farm laborer. |
| | CB and SA married in Jackson County--1861 |
| | CB served in the Jackson County Home Guard during the Civil War. |
| | In 1870 federal census they lived in Putnam County, Missouri. They had five children by this time. |
| | In 1880, Charles B. and Sarah Ann were found in the Arcata Township of Humboldt County, CA |
| | Settled on land in Whitman County, Washington Territory by July of 1882 with the purpose claiming it as a homestead. Proved up on this claim in 1887. |
| | CB found on the 1890 special federal census for Veterans. Address Oakesdale, Washington. |
| | Sarah Ann died in December of 1899. Charles forced to sell the Whitman farm in early 1900. |
| | Moved to Yakima County, WA. The 1910 and 1920 census show that Charles B. lived with his son Charles L. in Mabton. WA |
| | He was a Member of the Masonic Lodge No. 166 of Mabton, WA. |
| | Methodism appeared to be the religion of choice. Funerals and weddings were often performed in the Methodist Church and one son was named after Lorenzo Dow, an early charismatic minister of the Methodist Church. |
To them were born 12 children.
Inabell
b. 5 May 1862
d. 11 July 1958
m. William Green Ritchey
Laura
b. 19 February 1870
d. 27 April 1943
m. John Mitchell McLean
Caroline L.
b.18 Dec 1876
d. 26 April 1959
m. Grant Powell
Lena
b. 10 Jan 1864
d. 11 June 1883
m. John Stormer
Orphie Jane
b. 29 February, 1872
d. 3 December 1888
Ulysses Dow
b.27 Dec 1878
d. Feb 1941
m. Lydia Pearl Pierce
John
b. 24 December 1865
d. December 1870
Charles Lincoln
b. 18 January 1873
d. 22 October 1937
m. 1# Isabel Partrick
m. 2# Clarinda Casement Chapman
Jessie
b. 23 Nov 1880
d. 23 Feb 1857
m. Edgar Chapman
Maud
b. 8 November 1868
d. 22 April 1893
m. Frank McQueen
Paul
b.11 April 1875
d.1876
Frederick Sheridan
b. 18 Dec 188
d.. 8 Jan 1930
m. Mary Pharo Bartlett
Biography:
Anna Edminster wrote a short "Scott Family Record" of the Scott family in 1959; she said that she got her information directly from her Grandfather Charles Benjamin Scott. Although there were some mistakes in the record, I have been able to verify most of what she recorded at that time. Her much-worn book was a springboard for me to discover more about my great grandparents, Charles and Sarah Ann Scott
Charles B. Scott was probably born near the boundary between the Greenbrier and Pocahontas Counties of [W] Virginia. Family lore says that they lived on the side of a mountain that overlooked a beautiful green river. As it turns out, John, Charles B. Scott's father, inherited 100 acres of land from his father-in-law, Benjamin Erwin/Ervin on Droop Mountain in 1848, situated near the beautiful Greenbrier River. Between the 1850 and 1860 census, Charles' family moved to Jackson County, [W] VA. They farmed in the Tug Fork area of that county.
Sarah Ann Bonnett was born August 8, 1844 to Nicholas H. and Catheriine [Staats] Bonnett. According to the Scott family record, when Sarah Ann was 7 years old, her mother died. [Catherine was still alive for the 1850 census.] Nicholas married Catherine's half-sister, Sarah E. Staats in 1853, thus Sarah Ann's aunt became her stepmother. Shortly after this, Nicholas H. built a red-brick house on Parchment Creek for his family and he was given the contract to build the second courthouse for Jackson County. "On November 15, 1854, five Jackson County commissioners entered into a contract with Nicholas H. Bonnett to build a new court house." [from "Jackson County, West Virginia Past and Present, 1990"] In 1858 the year that the courthouse was completed, N.H. died, leaving Sarah E. a widow. His will was probated in June.
...I will and bequeath to my daughter Sarah Ann The farm on Parchment that I bought off Benj Carter containing also The one half of a tract of land situated on Buleview containing 380 acres also one good horse one bed to be furnished with 4 double Coverlids ( one to be new) two blankets and 2 sheets with other necessary clothing for a good bed Also one cow and 5 sheep...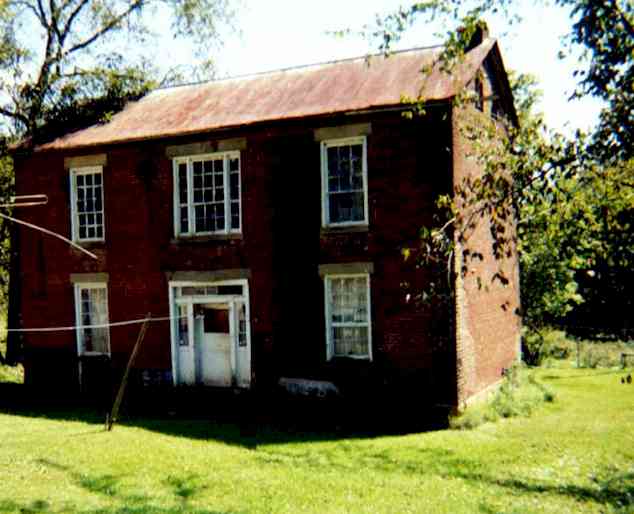 The Nicholas Bonnett House on Parchment Creek, Jackson Co. WV built in 1854. Sarah Ann probably lived in this house until she was married to CB Scott in 1861. The William Robert and Sarah E. [Staats Bonnett] Scott family lived on in this house after the rest of the Scott families including CB and Sarah Ann moved west. Mr. Stuart Sayer who currently owns this house and property said that at one time it was a showplace of the county. Nicholas Bonnett is said to have had a kiln where he fired the bricks and the lime that was used for mortar was dug out of bank across the creek behind the house. The house was supposed to have been built by slave labor but Nicholas Bonnet did not have slaves reported on the 1850 census and there were no slaves that he willed to his wife and children on his death. However, he could have rented slaves from someone else.
Two years after Nicholas died, Sarah Ann's stepmother married William Robert Scott. It is easy to see how Sarah Ann Bonnett met Charles Benjamin Scott, the younger brother of "Will." Sarah Ann and Charles B. were married October 24, 1861. Now Sarah E. who was Sarah Ann's aunt and stepmother became her sister-in-law.
While they lived in Jackson County, the Civil War broke out. Jackson County as well as other counties refused to secede from the Union with Virginia and West Virginia became the 35th state on June 20, 1863. It is recorded that both Scott brothers, Charles and William, joined the Jackson County Home Guard also referred to as the Jackson County 141st Militia. Charles B. mustered in with Captain John Riley's company on July 20, 1863 and later with the Jackson County Scouts--Captain John W. Johnson's Company--on September 1, 1863. He mustered out August 20, 1864. A description of the role of the Militia or Home Guard was given by the Adjutant General of WV in the annual report of 1864.
...During the past year they have participated in many engagements with the guerrillas, and have succeeded very well in the protection of those counties for which they are organized, and are quite able to do so, except against raids by large bodies of the enemy. This is very ardous and dangerous and such only as can be successfully accomplished by men who have lived in the county, who are thoroughly acquainted with it and the inhabitants. They are instructed to co-operate, as far as practicable , with the United States forces , and have proven very efficient as scouts and guides for our armies, and generally more effective for the purpose for which they were intended, than our soldiers in the United States service would be. During the past year we have received many favorable notices of the operations of these companies from the military commanders in different portions of the State...
During the Civil War two daughters were born to CB and SA, Inabell in 1862 and Lena in 1864. Towards the end of the war, CB's parents and family removed to Sullivan County, Missouri. About 1865, CB and family followed them and settled in Putnam County, MO just north of Sullivan. Robert William and family stayed in West Virginia.
For about 10 years, the Charles Scott family lived in Putnam County, MO. They are found in the Union township census of 1870 where the family real estate value is listed as $1600.00 and their personal estate was valued at $400.00. The surrounding neighbors seemed to have about the same holdings. During the Missouri years, John, Maud, Laura, Orphie Jane, Charles, and Paul were born. Sadly, both John and Paul died and were buried in the Unionville cemetery. In 1871, CB's father John died in Sullivan County and CB served as the administrator for Probate.
Inabell Scott Ritchey's obituary states that CB and family moved to Humboldt County, California in about 1876. They traveled by emigrant train to San Francisco and then by boat to Arcata. According to an article written about Anna E., "each family lived in a box car with wood-burning stoves kept going from piles of fuel gathered along the right-of-way by the railroad company". Robert Louis Stevenson chronicled his experience traveling on an emigrant train in 1879 from Council Bluffs, Iowa to San Francisco in "Across the Plains, with Other Memories and Essays".
At Ogden we changed cars from the Union Pacific to the Central Pacific line of railroad...There were no emigrants direct from Europe save one German family and a knot of Cornish miners who kept grimly by themselves...The rest were all American born, but they came from almost every quarter of that continent. All the states of the North had Pennsylvania, from New York, from far western Iowa and Kansas, from Maine that border on the Canadas, and from the Canadas themselves--some one or two were fleeing in quest of a better land and better wages. The talk in the train, like the talk I heard on the steamer, ran upon hard times, short-commons, and hope that moves ever westward...
It is very likely that Sarah Ann traveled while pregnant with her big family as Caroline is reported to have been born in California that year. Dow was born in 1878 as reported by the Humboldt County newspaper. The 1880 census of Humboldt County, Arcata lists CB, SA and family in the spring but later that year they were on the move again to Washington state. Anna Edminster wrote that the Scotts moved north by wagon this time, a trip that took 12 weeks. Jessie was born in Washington Territory in 1880.
William Grant, grandson of Carrie (Caroline) Scott said he remembered being told by his grandmother that initially Charles B. Scott settled on some of the most fertile land of the Palouse but later traded with another family for less rich land that was closer to hills and trees and more like their beloved WV. This could be true. In 1882, Charles and family moved onto land at Lone Pine, very close to where the present day Tekoa is located, one of the few peaks with trees on the flat plateau called Palouse in Whitman County. To prove up on his claim to the homestead, CB had to fill out an application and answer questions about his home.
Question 28--Describe fully the house on this claim, giving the value thereof; also describe fully all other improvements thereon of whatever kind, giving the value of each and total value of all improvements.

Ans. Box house 14 by 20 ft. with wing 12 x 12 ft., 4 rooms, 5 doors, 4 windows, worth $300.00. Barn 39x40 ft $100.00. Grainery 6 x 20 ft worth $20.00. Hen house 10 by 12 ft worth $20.00. Three wells worth $100.00. 65 acres broken and under cultivation worth $265.00. 21/2 miles fence worth $400.00. Total $1185.00."
The family also owned two plows, a harrow, wagon, spade, hoe, 5 work horses, 7 stock horses, 11 head of cattle. They were growing wheat, oats, and barley. They even had to report the "articles of furniture of every kind you keep and use in your residence on the claim." These were a cook stove and heater, three tables, cupboard and dishes, 4 beds and bedding, sewing machine, chairs. Their address was Lone Pine, a post office and stage coach stop on the road to Spokane. Later railroads were built and Tekoa was established. Note that on the following map of Eastern Washington--copied from microfilm of the Colfax Commoner, June 10, 1888--there is no Tekoa because it was not incorporated until March 30, 1889. Lone Pine is located on the far right, northeast of Oakesdale and north of Farmington.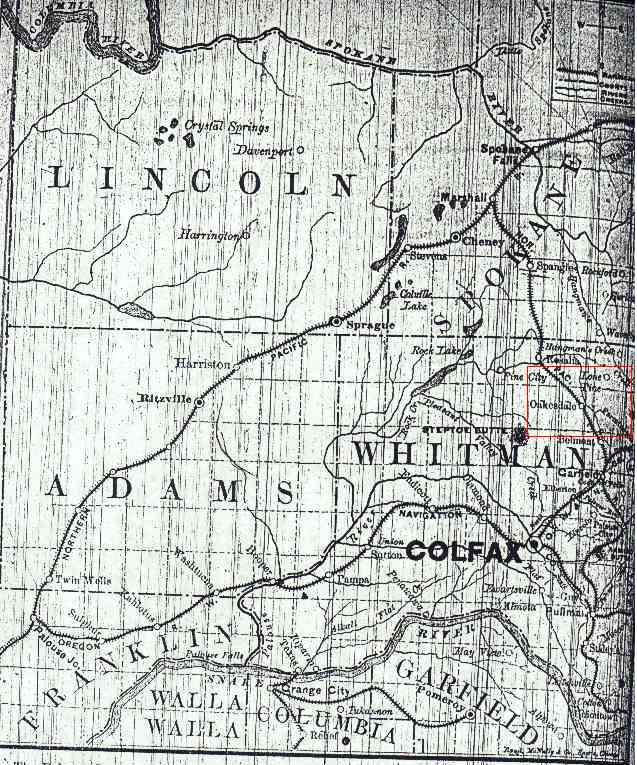 Eastern Washington map published in the Colfax Commoner on June 10, 1888. The Charles B. Scott farm was located near Lone Pine. James A.M. Scott and Nancy Jane Scott, brother and sister of Charles also homesteaded near Lone Pine. Another sister Margaret Louisa and her husband Edward Cheuvront resided on a farm near Belmont. In 1885 Easter Scott and in 1888 Orphie Jane were buried in the Lone Pine Cemetery. Inabell who married William Green Ritchey lived just over the Idaho border from Farmington. Charles B. and Sarah Ann Scott, Inabell [Scott] Ritchey, Maude [Scott] McQueen and baby Charles, Lena [Scott] Stormer, and two daughters of James A.M. Scott are buried at the Mountain View Cemetery in Farmington.
For twenty eventful years, CB and SA made their home in Whitman County, Washington. In 1881 their oldest daughter Inabell married William Green Ritchey and their first grandchild was born the following year. Second daughter Lena married John Stormer in 1882; she died in childbirth in 1883. The announcement in the paper said, "Mrs. Stormer died June 18." More space and words were given to the ads for stray horses. Sarah Ann had her last baby, Frederick Sheridan in 1885--a full 23 years after Inabell had been born. This is the same year that Easter Scott, CB's mother died and was buried in the Lone Pine Cemetery. [Abt 1882, Charles' younger brother and sisters and mother had moved out to Washington from Missouri by wagon.] Laura married John Mitchell McLean, the Sheriff of Colfax in 1887. Charles B. received his land patent for the 160 acres, section 32, township 20N, range 45E. In the fall of 1888, the Colfax Commoner mentioned that Maud Scott was going to school in Colfax; this was probably Colfax college. Just before Christmas of this year, Orphie Jane died and was buried with her grandmother in the Lone Pine Cemetery. She was just 16 years old. Maud Scott married Frank McQueen in 1891. On June 10, 1892 the Palouse City paper ran a long article about the newly formed Peoples Party of Whitman County. The representative from Lone Pine was C.B. Scott
THE PARTY OF POLK
Meets and Resolves for the
First Time
They will Fight Republicans to
Save the Country
Full Report of the Convention, and the
Resolutions.--Speakers and Papers will
Work to wrest the County From the
old parties, for Patriotism's sake.
The first convention of the People's party of Whitman County met in the court house at Colfax last Saturday at 10 o'clock a.m. The attendance of delegates and spectators was large. There were no silk hats in the convention, few of the delegates wore boiled shirts, but there were many well-shaped heads, bright eyes, and intelligent faces. Two or three of the delegates looked and acted like professional agitators , but taken all together it was a convention of representative farmers. The chairman was rather lax in preserving the order, considerable time was wasted in foolish speeches, but on the whole the proceedings were business like and harmonious...
The resolutions submitted by the committee on platform probably reflected the values and politics of C.B. Scott and the other Whitman County farmers who attended the convention as delegates.
We, the representatives of the People's party of Whitman county, state of Washington, in convention assembled, do hereby declare that we are in full sympathy with the address and platform adopted by the great industrial conference at St Louis, February 22, 1892.

We fully endorse the statements contained therein as to the general condition of public affairs in our beloved country and deplore the necessity of another political organization in order to secure for the laborers and producers of these United States the rights guaranteed by the founders of this government.

We favor each and every demand made in the platform of principles already alluded to but most especially do we emphasize the financial measures known as the subtreasury plan and the free coinage of silver.

We severely denounce the late action of the legislative branch of this government in the matter of free coinage of silver and as freely condemn the attitude of the executive toward the same measure.

We most emphatically denounce the manner in which the people of the state of Washington have been misrepresented in the halls of congress by men have held party fealty to be more binding then the demands of their constituents or the voice of conscience.

We believe that the public business of our commonwealth has been conducted with as little regard to the public welfare as have those of the nation at large, and that a corrupt legislature and executive have conspired together to defeat the will of the people, and to heap upon them additional burdens which the national representatives have already made grevious.

We believe that robbery, bribery, and corruption generally have been the order of the day in the management of the affairs of this state ever since its admission into the union.

We believe that this same condition of affairs in our general and state governments has extended to those of our own county, as well, and that thousands of dollars of the people's money have been squandered or stolen, resulting in a heavy public debt being added to the load of an already overburdened people.

We believe that an unscruoulous (sic) ring has been dominating the affairs of this county that has enriched its members at the expense of the people and openly defied the will of the majority.

We declare it is our purpose to rescue the county, state and general government from the tide of corruption which is sweeping us into moral, political and financial ruin and make it again a government of the people, for the people, and by the people.
1893 was a year of tragedy. Maude Scott McQueen traveled to Walla Walla for treatment of TB but she died there and her body was transported back to Whitman County for burial. This was also the year of the great rains in eastern Washington. Wheat rotted in the fields and many families ended up abandoning their farms because they could not pay their debts. The Colfax Commoner was full of notices of Sheriff sales on farms because the owners could not pay their taxes. In fact the entire country suffered the worst depression to date with five hundred banks and fifteen hundred firms including mines, factories, mills and railroads going down. CB Scott seems to have weathered this bad year but his children were moving away. Oldest son Charles Lincoln married Isabel Partrick in 1895 and moved to Nez Perce County, Idaho. U. Dow also left home about that time therefore the only help CB would have with his farm was his last son, Frederick. Daughter Caroline eloped with Grant Powell. They were married in Spokane in 1898.
January 15, 1899, Sarah Ann wrote to Charles L.:
My Dear son, I will write to you a few lines but have no news. This is the lonesomes place I ever saw. Plenty of snow and it is coming down in a regular blizzard from the east today looks like it would never quit. I was glad to get your letter was beginning to get uneasy. I am glad you have had the measeals. They all went to the literary except your father an me last Wednesday night. The house was pact like sardines in a box and if they had had a little more whiskey I think there would have been a regular Irish wake. They did not have any order our set think they have had enough of it. I hope business will revive. Do not be discouraged hope for better times. No one is making anything up here this winter. Oaksdale business men is not making enugh to pay rent. I feel better for sometime, but don't know how long it will last. Hope I will be able to cook you a good dinner the next time you come or when I come down. Jess is making carpet rags. So good by for this time.

Mother SA Scott
The year, decade, century ended with Sarah dieing in late November. Charles B. was forced to put the farm up for sale to pay the debts and a sale went through in May 1900. He was 61 years old.
Charles B. Scott spent the rest of his life in Mabton, Washington. According to accounts in the local paper, Charles traveled fairly frequently to visit his daughters who lived in Spokane and Frederick who lived in Colville. Bruce Scott, son of Dow Scott, reported that Charles stayed with them in Idaho occasionally. . And according to the local paper, he lived on a ranch near Mabton with his sister, Nancy Jane for a time. In both the 1910 and 1920 federal censuses he was listed as living with his son Charles Lincoln who lived in Mabton. After his death in 1924, Charles' body was returned to Whitman County to be buried beside Sarah Ann.

Last update: April 14, 2002